Center garden area planned, seeds I either have or are on the way. In the center garden this coming spring I'm trying:
Tomatoes (Solar Flair, Cherokee Purple, Black Beauty, Black Cherry, Purple Bumble Bee)
Artichokes (Imperial Star — seedlings already started!)
Crookneck Squash (Early Golden Summer)

Cauliflower (Purple of Sicily)
Cabbage (Mammoth Red Rock)
Broccoli (Waltham 29)

Beets (Chiogga, Crosby Egyptian)
Leeks (Megaton, Lexton)
Swiss Chard (Five Color Silver Beet)

Carrots (Atomic Red, Purple Dragon, Pusa Asita Black, Yellow Bunch)
Lettuce (Flash Butter Gem, Flame, Garnet Rose)
Orach (Magenta Magic)

Chilies (Purple Jalapeno, Green Jalapeno, Goat's Horn, Chocolate Habanero, Cayenne)
Flowers (Nasturtium, Poppies, Sunflowers, others TBD)
Red Currants (Rovada)

Gooseberries (Hinnomaki Red, Invicta)
Blackberries (Triple Crown Thornless, Prime Ark)
Herbs (Sage, Parsley, Rosemary, Basil)
This spring I'm thinking of using straw bales again for the center garden. They worked really well last year for the mini garden, and I'd like another year of soil building before planting direct in the ground. They're not a practical solution long-term since they're one-use only, but the composted straw will be good for the soil at the end of the season this year. Next year I'm hoping the soil will be good to grow.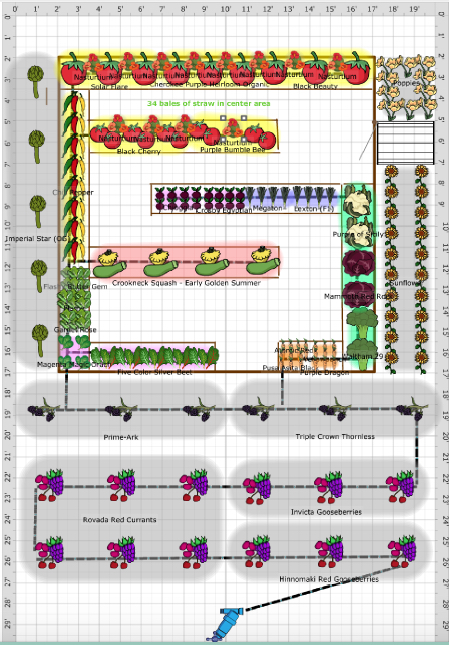 The plan above was created using the GrowVeg.com garden planner which I like a lot. It allows you to put in plants appropriately spaced as well as fencing, irrigation, and other structures.
Next is planning the orchard space for apples, cherries, and peaches, and the front garden space for blueberries, more herbs, more flowers. I'm also adding a 2-hive apiary for healthy pollinators. I'm looking forward to a big learning year!