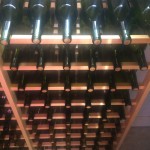 Last year I got on a fermentation kick. One of the successful fermentation experiments was making my own wine. I started with a wine kit so I could get the feel of the process.
You can search for kits online – so far I've tried the kits made by Vintner's Reserve and have been happy with their Chardonnay, Merlot, and Sauvignon Blanc. The all-in cost ends up being $2-$2.50 per bottle after you invest in the initial supplies. The wine is drinkable in 2-4 months, and about the same quality you'd expect in a $10-$15 per bottle wine from your local supermarket. The initial investment ran me a little under $200 purchasing everything new. You can likely find used equipment if you're on a tighter budget.
After making a few kits, I feel comfortable enough to make wine from scratch. Next time I'll do so. Before I do, I had five cases of chardonnay and sauvignon blanc ready for bottling.
Making wine is not hard as long as you take care to sanitize everything property (I use One Step sanitizer), follow the directions, and remain patient. Like with bread, the yeast knows what to do, so mostly you just let it do its thing.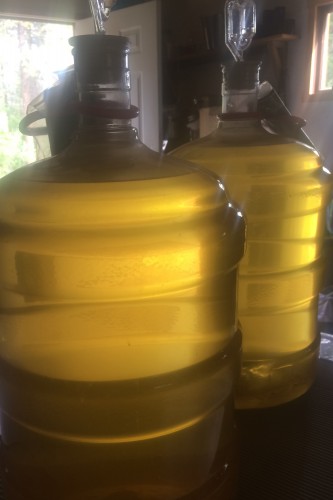 The most labor-intensive part is bottling the wine. I learned it's best to rack the wine from the carboy into a clean fermentation bucket before bottling. That ensures I don't pick up any of the cloudy dregs from the bottom of the carboy as I'm bottling the wine.
Racking the wine is siphoning it from one container to another. I tried using a hand pump initially. That worked, but was not nearly as efficient as putting one end of a tube in the wine, and the other in my mouth and creating suction to get the siphon going. The container you're siphoning from — in this case the carboy — needs to be higher than the container you're siphoning it to. Then you let gravity do its work. As long as you just use enough suction to get the siphon going and don't get spit in the wine, it should be perfectly sanitary.
Once the wine is racked into the clean fermentation bucket, repeat the siphon process to get the wine into the bottles. Again, I first tried a fancy bottling gadget to fill the bottles, but discovered it works much better to siphon manually and simply crimp the tube to stop the flow between bottles. It can be a messy process until you get the hang of it, so recommend starting out somewhere you can mop up any mess easily.
Once the wine is bottled, wait at least a month for whites and two months for reds before trying. They get better with time, but are drinkable even at this early stage.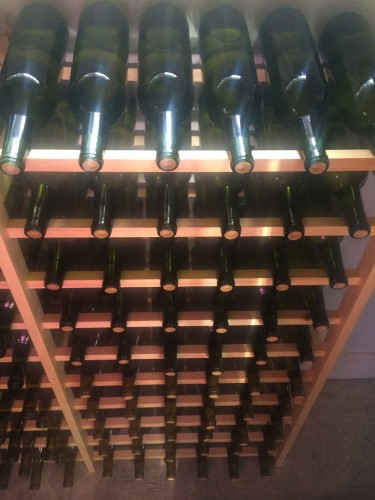 If you like wine and want to try your hand at making your own, I recommend it. It's easier than I expected and makes for an impressive made-by-hand gift for friends and family.
Follow-up: I made a fresh wine batch in the last week, and it is the first time my primary fermenter was invaded by fruit flies. The bucket was sealed, so I have no idea how they got in. From what I've read, fruit flies carry a bacteria that makes wine undrinkable. Some say you can take your chances and fish out the flies to see what happens with the resulting wine. I'd rather cut my losses and start fresh, as much as it breaks my heart to waste anything.