Artichoke seedlings!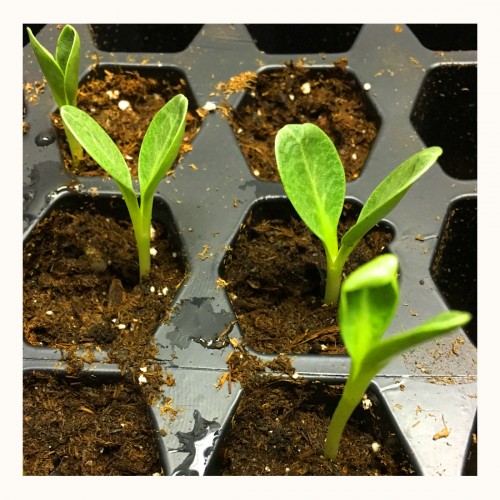 Just as important as growing vegetables to me is the planning. Winter is the perfect time for:
evaluating what went well (starting seedlings early in the hothouse, planting in straw bales) and not so well (planting all at once) last season
considering what I want to try for the upcoming season
checking out seed catalogs and websites (ones I like so far are Baker Heirloom, FedCo, Johnny's, and High Mowing), purchasing seeds, and ordering trees for spring delivery
putting hothouse seed starts on the calendar
figuring out staggered planting times and length of time to maturity so plants and trees ripen throughout the growing season instead of maturing all at once
learning the soil composition and nutrients each plant prefers
researching new ideas — this winter I've been looking into seed saving techniques, food preservation, the advantages of no-till gardening, irrigation solutions, natural beekeeping, and best ways to keep deer and other pests at bay with minimal intervention, and
getting advice from local gardeners.
Having a hothouse has been another great asset for actually growing vegetables during the winter, too. I started tomato seedlings in December. They're looking good for an end of February harvest.
I've also been growing sunflower greens through the cold season. Their growing cycle is 10-14 days, so harvest of fresh greens all winter is an easy bet.
Artichokes need an early start given our short growing season. I started those seedlings in January. They should be ready for planting out in early May.
I'll be starting more seedlings for tomatoes and peppers in the next couple months. I'm hoping to have early produce to sell at the summer farmers' market — when most everyone else has only seedlings and cold-hardy crops.