When summer squash comes on, it's amazing how many gourds mature quickly from each plant. I happen to love fresh summer squash, but even the yield from my little garden was too much for eating fresh. I decided to pickle some. Happy experiment — summer squash makes the best pickled veggies ever! Here's what I did: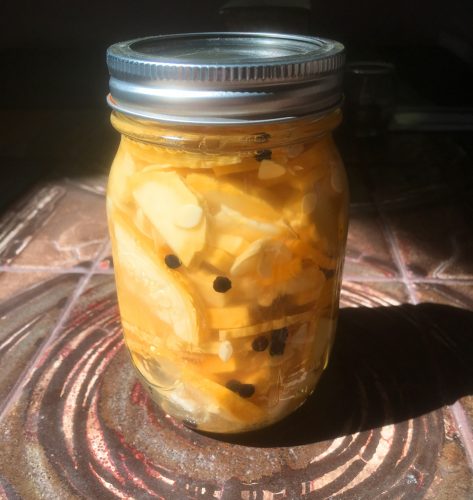 Sterilize canning jars and lids in boiling water
Slice each gourd in half lengthwise and into slices 1/8″ – 1/4″ thick
Pack sliced summer squash into canning jars with a dozen or so whole black peppercorns
In a saucepan, mix 1 cup of white distilled vinegar with 1 cup water (adjust this amount and the following for the number and size of jars you're canning — I did 6 pints with this recipe)
Add 2 tablespoons pickling salt (adjust to your batch per the bullet above)
Heat to simmering
Pour vinegar mix into the squash-packed canning jars, leaving 1/4″ of head space
Tamp down/stir to get rid of bubbles
Put on lid and ring
Place jars in a simmering water bath for 10 minutes
Take out jars, place on cooling rack
When jars are cool, store or place in refrigerator for 5 days to let flavors develop.
Put pickled squash on sandwiches, salads, or (my favorite) collard green rolls. So much better to me than cucumber pickles!