This roasted cauliflower soup is a tasty, relatively low-calorie, winter meal option.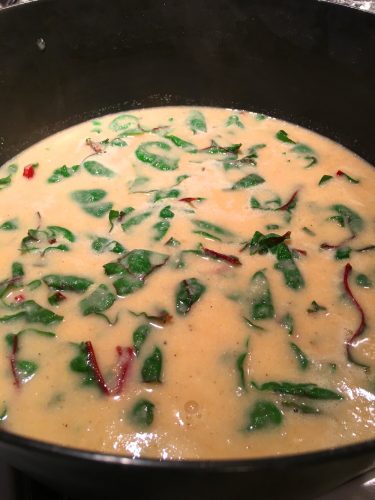 Planet B Gardens Roasted Cauliflower Lemon Truffle Soup
Ingredients:
1 large head fresh cauliflower, cut into bite-sized florets
Peeled garlic cloves from 1 small head (8-10 cloves)
2 small lemons
1 tablespoon fresh tarragon
1 tablespoon olive oil
1.5-2 quarts organic stock (I used chicken stock; vegetable or seafood stock will work as well)
0.5-1 teaspoon truffle salt
Plain salt and pepper to taste
Optional: Chopped fresh Swiss chard (or kale, spinach, other greens you like)
Optional: 2 tablespoons heavy cream (if you prefer a richer soup)
Optional: Seafood or poultry of your choice, cut into large, bite-sized pieces
Instructions:
Preheat oven to 425F.
Put cauliflower florets and garlic cloves in a bowl, toss with the olive oil, and spread out evenly on a lined baking sheet.
Roast the cauliflower and garlic until slightly charred and soft — about 30 minutes.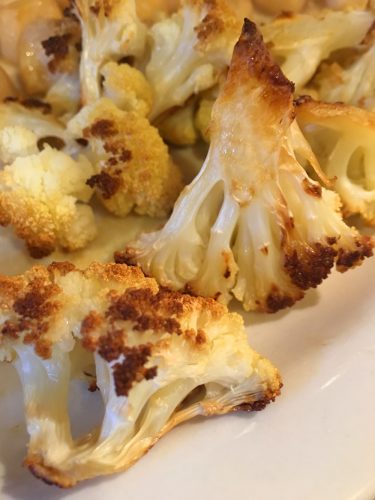 While the cauliflower and garlic cloves are roasting, prepare your other ingredients:
Zest the outside of the two lemons, and squeeze the juice into a small bowl.
Roughly chop the fresh tarragon. Put aside.
Heat 1 quart of the stock to simmering.
When the cauliflower and garlic are done roasting:
Reserve a handful of the roasted cauliflower and place the rest in the heated stock.
Add the roasted garlic to the stock. The cloves should be relatively soft. If you find any that are hard or overcooked, leave them out of the soup.
Puree the cauliflower and garlic into the stock with an immersion blender. If you don't have an immersion blender, you can also transfer batches to the container of a counter blender. Blend until relatively smooth. Add stock as needed to thin the puree to soup consistency.
Add the lemon zest, lemon juice, tarragon, and 1/2 the truffle salt to the pot.
Mix well and add more truffle salt until it's just detectable. Too much truffle can overpower the other flavors, so use sparingly.
Adjust the salt to taste using plain (not truffle) salt. Add pepper to taste, and mix well. Toss in the reserved roasted cauliflower florets.
At this point you can add your other optional ingredients. I added chopped Swiss chard and bay scallops to my latest batch. You could also add kale, spinach, and collard greens, plus shrimp, chicken breast or some other protein you like. Add the cream last if you would like a richer soup. Bon appetit!