Snow is falling here on the Montana homestead. Time for a warm, hearty meal.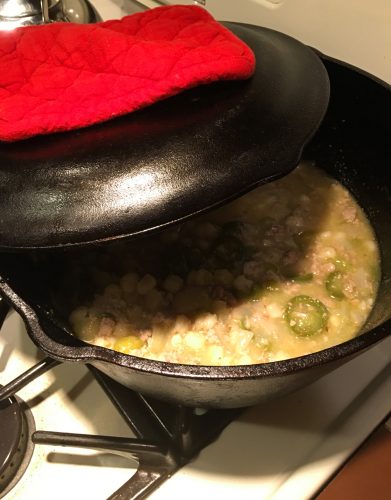 I had some ground, lean pork shoulder from a local farm in the freezer, plus hominy I'd made a couple weeks back. Just the ingredients to start a spicy chili verde.
Chili Verde with Hominy
1.5 cups chopped onions
4-6 fermented garlic cloves, smashed and chopped (you can also use fresh garlic cloves)
1 lb. ground pork shoulder
¼ cup canola oil (if needed; if your pork has enough fat on its own, omit the oil)
4 large green jalapeños, sliced into rings (keep the seeds if you like it spicy, remove them if you prefer a milder chili)
25 oz can drained white hominy (or make your own hominy)
1 tbsp. whole cumin seeds
6-8 fresh tomatillos, paper shell removed, and chopped into large chunks (you can also used canned, but fresh tastes better)
4 cups chicken stock (1-32 oz. carton/container if you're not making your own)
¼ cup masa harina
Salt to taste
Directions
In a large dutch oven, add onions, garlic, ground pork shoulder, and canola oil (if needed). Cook on medium until pork is cooked through and onions are soft.
Add sliced jalapeños, sauté until starting to soften.
Add drained hominy. Heat and mix to allow the hominy to absorb the fat.
Add cumin seed and tomatillos. Heat until tomatillos start to soften.
Add chicken stock. Heat to simmering.
In a separate small bowl, mix masa harina with liquid from the dutch oven to form a thin paste. Pour into the chili and mix in quickly.
Add a little salt, and simmer uncovered on low until chili thickens, stirring occasionally. About 30 minutes.
Adjust salt to taste and serve.
This recipe can be modified to make good use of Thanksgiving leftovers as well (for those of you celebrating in the US).
You can substitute chopped turkey leftovers for the ground pork, and turkey stock for the chicken stock. In this case, you'll need to use the oil to saute´your vegetables and aromatics first, and then add the chopped turkey. Otherwise, the rest of the recipe remains the same.