When rocambole or other hardneck garlic varieties start the flowering process, they shoot up a central stalk with a bud. If you want a good-sized bulb of garlic to form rather than the energy of the plant going into producing a flower, you need to harvest that stalk once it starts to curl around.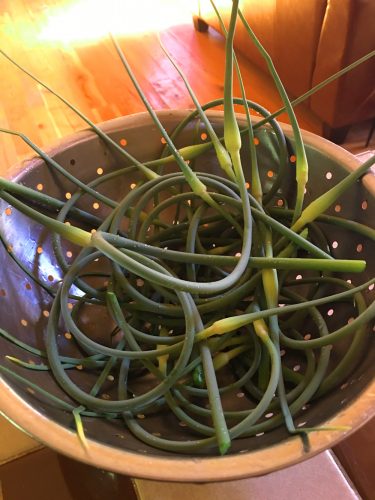 The harvested part is called a "scape," and it's delicious. The scape has a mild green garlic flavor, and is great chopped fresh in salads, sauteed in butter, tossed into pasta and stir-fries. Some people like the buds fried in tempura batter like a squash blossom. You can also pickle the scapes if you'd like to keep their flavor beyond the summer. I like them best when they're lightly sauteed and added as part of a summer dish.
One preparation I hadn't tried is lacto-fermenting the scapes, so I did that with my latest batch.
Lacto Fermented Garlic Scapes
First, sterilize your canning jar, weight, and airlock in boiling water.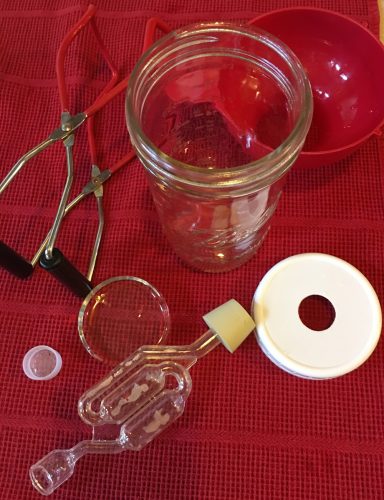 Create the brine by combining 2 tablespoons natural sea salt with 1 quart filtered or spring water. Not chlorinated water, which will stop the fermentation. Stir until the salt is completely dissolved.
Rinse the scapes, and pack into your canning jar — trimming ends to fit as needed.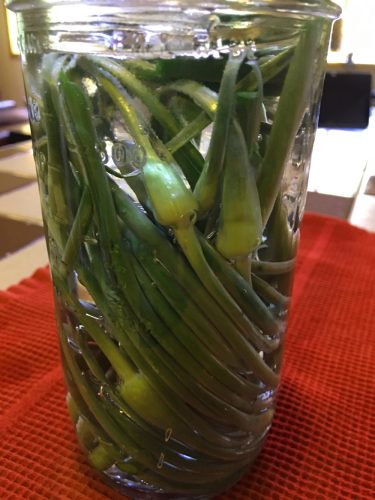 Add your brine to cover, and place your weight on top of the scapes to ensure they stay completely submerged. Put on your airlock lid, and place in a relatively cool (70F-75F), dark place to ferment.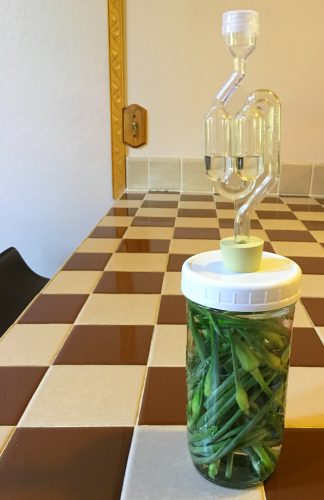 The mixture should start to bubble within a few days. You can check after 4-5 days to see if you like the resulting taste. The scapes will be slightly tangy when done rather than salty. If it's still salty, let ferment a couple more days and taste again until done. Once the fermentation is to your liking, you can put in the fridge for up to a few months.
7/19 Update
Fermentation took 10 days for this batch. The flavor is nice — the garlic flavor got nutty and a little sweet, and the added tang is a good complement. The stalk and flower got fairly tough. Next time I'd ferment the tenderest stalks only and cut off the bud. Even then, much of the stalk turned out too tough to chew and swallow. It's more like a chew and spit the remaining fiber. Still, taste is pleasant.