Large pies work well for freezing in my experience, but they take up a lot of room and are more suited for a larger crowd. Hand pies seem like the perfect solution. They can be tucked in nooks and crannies in the freezer, and I can take out as many servings as I have people when I'm ready to bake them.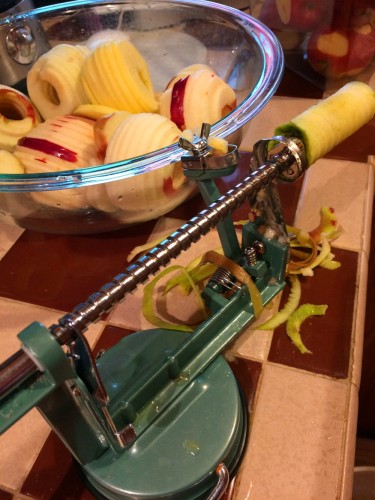 The process starts the same as for large apple pies. If you're preparing a large batch of apples for pies (or dehydrating) I highly recommend investing in a hand-crank apple peeler and corer. It's fast, fun, and you get perfectly uniform slices. Once you've run the apples through the machine, just slice the spiral in half and you have your individual slices for pies.
For the dough I cut up 5 sticks of butter into chunks and put them in the freezer 10 minutes before starting, along with 2/3 a cup of shortening also cut into chunks. I mixed 6 cups all-purpose flour, 1/2 cup of organic cane sugar, and 1 tablespoon of sea salt in the food processor until blended (actually I did half at a time so it would fit). After the dry ingredients were well-mixed, I started dropping in the chunks of butter and pulsing to get pea-sized balls. Then in with the shortening chunks. Once all the fat was incorporated into the flour mix, I added just enough ice water to form a firm dough. Into the fridge it went while I prepared the apples.
The apples slices got tossed in a bowl with a cup of brown sugar, 1/2 a stick of melted butter, 1 tablespoon cinnamon, and 1 teaspoon each of ground allspice and nutmeg. I let those marinate in the fridge for a couple hours while I took a break.
I gave the apple slices a stir to evenly distribute the liquids and spice. I took out the dough and sliced off enough to make a baseball-sized ball. I rolled out the ball into a slightly oblong disk,  filled one side with about 3/4 cup of apple slices, and flipped the other side to cover and seal.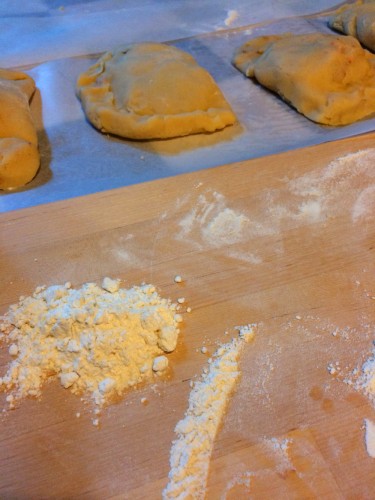 Since the best-tasting dough is basically fat held together with a bit of flour and a couple other ingredients, it gets soft quickly so I had to work fast. The resulting hand pies were not the prettiest (there's a reason "ugly as homemade pie" is a saying), but they passed the taste test with high marks when we baked some later that night. The rest went unbaked into the freezer.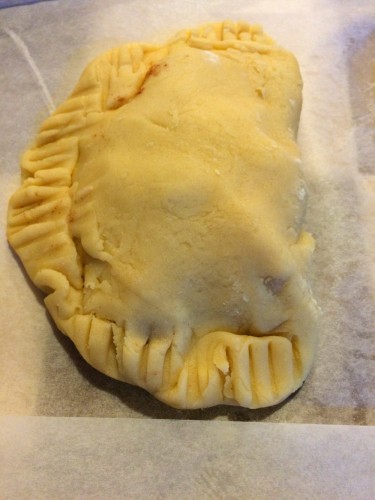 When I'm ready for more, I'll pop one or two frozen ones in a preheated 375F oven. If I remember right, it takes about 30-40 minutes to bake from frozen. When baking I go by smell more than time,  though — when it smells like fresh-baked apple pie, it's done.