Traditional Swedish knäkkebrød is a great option if you're looking for a high-fiber, low calorie, and low gluten alternative to regular bread.
I've been buying the Wasa brand for years, and finally decided to make some from scratch. I like the result much better, and it's fairly easy to make. First, gather your ingredients:
1 1/2 teaspoons dry yeast
2 cups lukewarm water
2 teaspoons salt
1 tablespoon fennel or cumin seed, crushed
1 cup coarse rye meal
2 1/2 cups dark rye flour
1/2 cup rolled oats
1 1/2 cups whole wheat flour (more as needed to make a firm dough)
Mix ingredients in order of the list above. Knead for 5 minutes to make a firm dough. Divide dough into 15-20 balls (about 2/3rds the size of a tennis ball).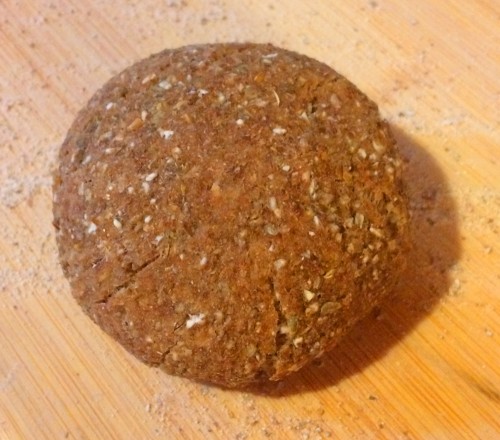 Put the dough balls on a board, cover with a cloth, and let rise 40 minutes. In the meantime, preheat oven and cast iron pan to 55oF. You can use any cast iron pan or sheet. I used the cast iron griddle below.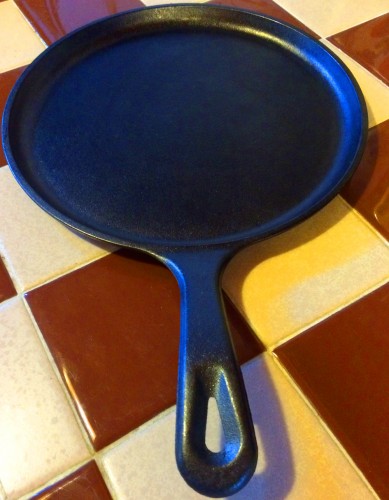 Once dough is risen (unlike bread, it won't get much bigger if at all), roll each ball out on a floured board in batches of two or three. To roll, start with smooth rolling pin (covered with a rolling pin cover ideally, so the dough doesn't stick). Once rolled out to about a 1/4 inch, roll with a kruskavel.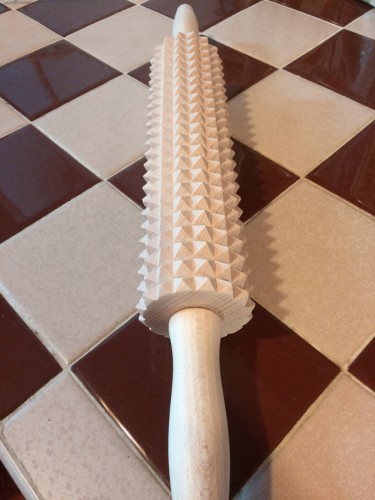 A kruskavel is a rolling pin with spikes specifically for making knäkkebrød. I got mine from Linden on Amazon.com. It will leave dimples in the dough characteristic of  traditional knäkkebrød. If you don't have a kruskavel, you can poke the dough with the end of a chopstick or other dimpling device.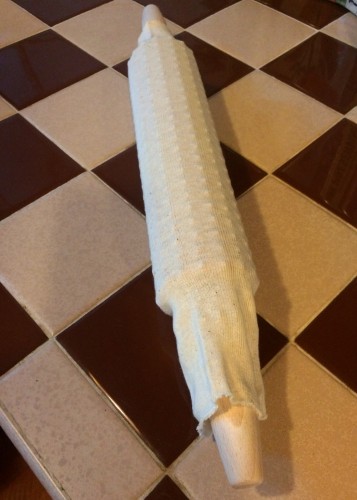 If you have a kruskavel, it's helpful to cover it with a rolling pin cover as well since the dough can get stuck in the grooves making it harder to clean. Roll to a long oval.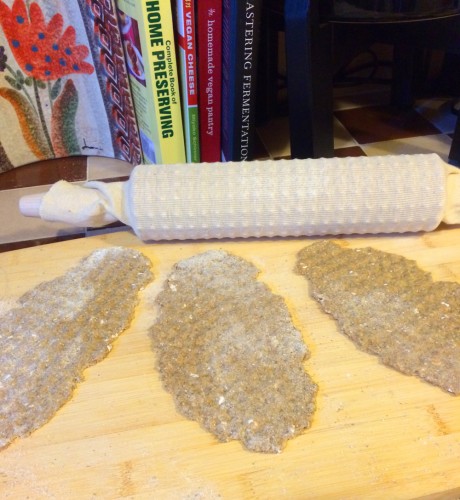 Place the rolled-out balls, two or three at a time, onto the cast iron pan. Put into the preheated 550F oven for 5 minutes.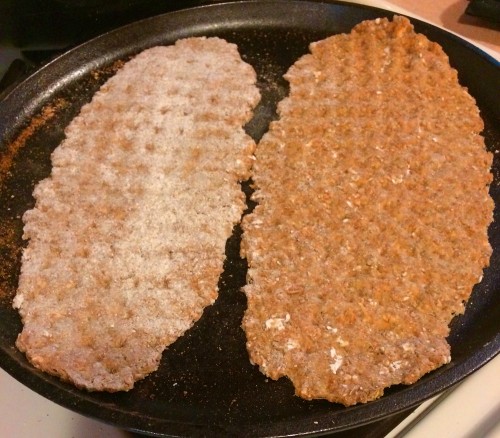 Take out, cool on a rack, and put in the next batch of two or three.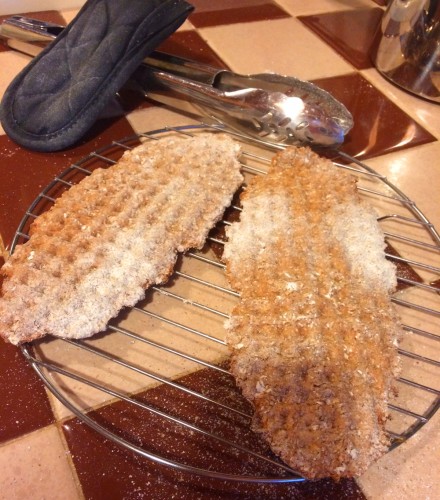 Repeat for the remaining batches.
Once completely cool, store in an air-tight container. Or, store it the traditional way: Traditionally knäkkebrød was made into big wheels with a hole in the middle. The cakes were threaded onto a dowel or broomstick through the hole and stored over the oven to keep them dry. Stored this way, the bread lasted for several weeks if not months.