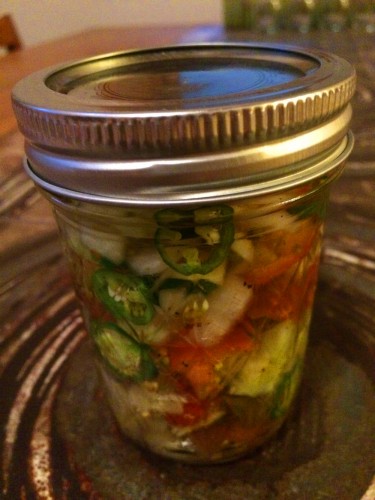 Smoke from the wildfires made for a change in plans from outdoor to indoor work today. The only place to be is indoors with windows closed and air filters running on high. Outside looks (and smells) like nuclear winter at the moment. Makes it hard to catch your breath.
I had a couple of pints of fresh-picked cherry tomatoes, a few jalapeno and cayenne peppers, and a sweet onion that needed to be eaten or preserved, so decided to try pickling them. I've done pickled peppers before, but not sure how the fresh taste of tomatoes will hold up after time in the jar.
Tomatoes tend to ripen a few at a time, so next year I'm planning to plant lots more so I have the volume to make many jars of marinara and spicy salsa at a time. As it is, this year I've only had enough to make a bowl of fresh salsa or a couple jars of canned at once. The good news is being able to can only micro batches makes experimenting low-risk. We'll see how they turn out.