Last garden tomatoes of the year are going into my Montana Chick Pea Stew, inspired by the Indian classic, Chana Masala.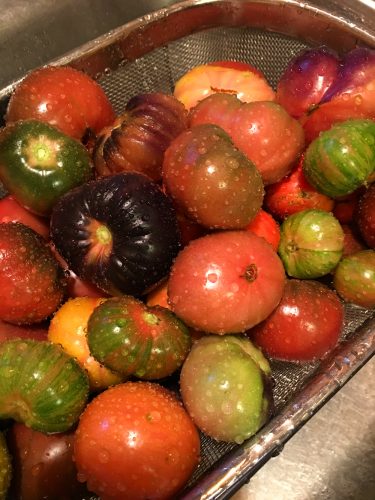 Most of the ingredients either came from my garden or the farm of someone I know.
First I sliced 10 cloves of the fermented garlic I started this summer. I warmed the fermented garlic in olive oil along with a chopped onion over low heat.
To the fermented garlic/onion mix I added a tablespoon each of whole cumin seeds, crushed black pepper, sea salt, and ground cumin. Then I stirred in a minced tablespoon or so of fresh ginger and a half dozen dried cayenne chilies from last year's garden.
As those were sweating covered on low, I chopped the tomatoes, removing the stems and leaving the seeds. The tomato varieties I grew are all fairly meaty, so I wasn't worried about having too much liquid. If you have juicier tomatoes, it just means you'll have to simmer longer to get the sauce to thicken. And the seeds add fiber. If you want to save some seeds for next year's planting, you can do that, too. I'd already saved the seeds I want for next year, so skipped that step.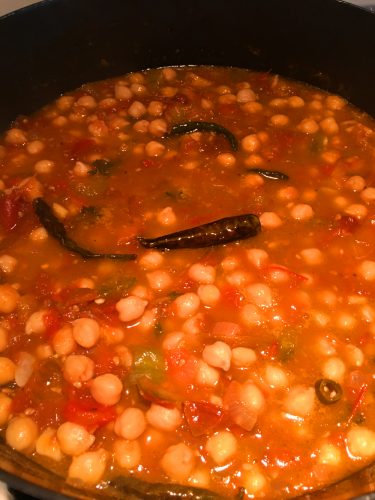 While the tomato mix was lightly bubbling away, I put a bag (about 16 oz.) of dried garbanzo beans (aka "chick peas") in a pot. I covered the beans with water and brought to a boil. Once the water was boiling, I drained the beans, put them back in the pot, added fresh water, and brought back to a simmer. Doing the first quick boil and draining eliminates some of the gas-producing compounds in beans. When the beans were just cooked through but still firm, I drained and added them to the tomato mix.
The rest is just a slow simmer over low heat until the sauce has thickened to your liking and the garbanzo beans are soft. I left mine on for a couple hours, stirring occasionally. If your tomatoes were on the sweet side, you could add a little lemon juice or white vinegar to make the stew a little tarter. Add more cumin, cayenne, garlic, pepper, and/or salt to suit your taste. I had fresh parsley from the garden, so chopped some of that and added it for a pop of green.
Healthy, full of fiber, and easy to freeze what you're not going to eat immediately. Makes a hearty winter meal served over barley or rice. If you want a special treat, I recommend this Purple Barley — it's delicious (no compensation for promoting — just like to pass along things I enjoy).