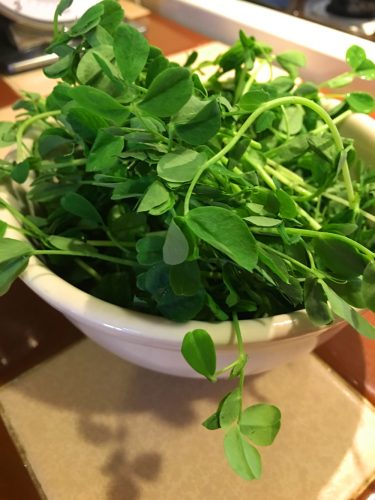 Pea shoots taste like the essence of fresh peas in the pod you get later in the summer. Raw, they're perfect on their own or in sandwiches and salads. Cooked, they marry that fresh pea flavor to a dish. One of my favorite ways to use them cooked is in cream of cauliflower pea shoot soup:
Cream of Cauliflower Pea Shoot Soup
Ingredients:
1 tablespoon butter
1 medium leek, sliced into rings
½ cup dry white wine
1 head fresh cauliflower, chopped into large pieces
4 cups stock (vegetable, chicken, or beef – whichever taste you prefer)
4 cups fresh pea shoots
Couple dashes garlic powder
Directions:
In a stock pot, melt the butter and add the sliced leeks
Sautee the leeks until just soft, add the wine
Heat for a few minutes to vaporize the alcohol
Add the cauliflower and stock
Simmer until the cauliflower is soft
Add the fresh pea shoots, stir into the mix
Cover for 3-5 minutes and simmer until the pea shoots are bright green
Add the garlic powder
Puree the soup with an immersion blender stick or run through a countertop blender or food processor in batches until smooth
Add salt and pepper to taste
The pea shoots turn the soup a vibrant green — a beautiful complement to any dinner.