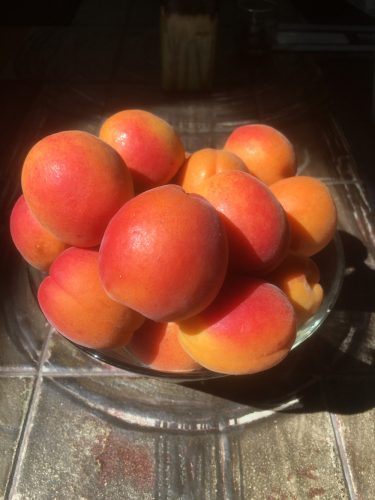 Apricots are in season! One of my favorite stone fruits both for eating fresh and preserving through the winter.
Traditional Apricot Jam
Apricot jam made the traditional way has so many uses.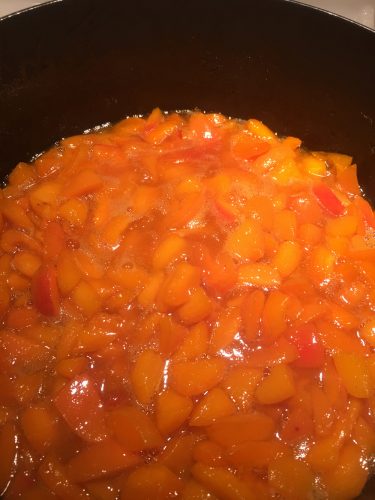 Chop fresh apricots into chunks.
Add sugar and lemon juice to taste. You need enough sugar to create the jammy consistency, so err on the sweet side.
Simmer until they're a chunky jam consistency (don't overcook or you'll lose the fresh apricot essence).
Put the cooked apricot mixture in mason jars, leaving 1/4″ headroom, put on the lids and rings
Submerge in boiling water for 10 minutes.
The resulting preserves are more runny than preserves made with added pectin. If you like a firmer jam, you can look for a recipe using pectin. I like the less firm version myself. It's great for adding to ice cream, shortcakes, and other desserts in addition to spreading on warm toast.
Freezing Apricots for Pies and Tarts
I like having individual pie/tart size bags of apricot slices frozen (about a quart) for making desserts during the winter. Just toss the slices (1/4″-1/2″ thick at the wide end) with a little sugar and a little lemon juice, put them in labeled quart ziplock freezer bags, and freeze flat. When you're ready to make that nice galette, thaw a bag and off you go.
The remaining apricots went into strudel.
Apricot Strudel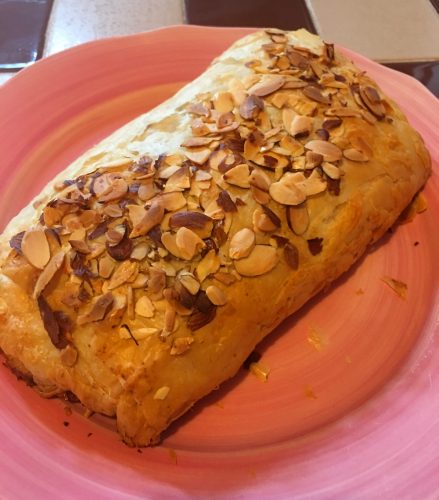 For this recipe I used frozen filo dough, which in my opinion is just as good as home made and no comparison easier. Thaw the filo dough (one package — usually there are two packages in one box) overnight in the fridge first. Sliced almonds are a nice addition if you have some around.
Preheat oven to 400F.
Cut the apricots into slices (about 1/2″ at the wide end is about right) and place them in a bowl. Toss with sugar and lemon juice to taste. I like mine on the almost savory side rather than dessert sweet.
Prepare a slightly damp kitchen towel — flour sack type works better than terry, but either will do to keep the dough from drying out as you assemble the strudel.
Unroll the filo, and cover with the slightly damp towel. Not too wet or the layers of dough will start to stick together.
Melt a stick of butter in a bowl.
Lay out 1 sheet of filo, brush with melted butter to cover.
Lay 2 sheets of filo in the opposite direction (to form a plus sign) and brush with melted butter to cover.
Repeat with 2 sheets alternating direction and brushed with butter until the sheets are all used.
Optional: In between the last couple layers you can layer sliced almonds on top of the butter and sprinkle with sugar.
Spread the apricot mixture in the central square of filo. Fold each of the flaps toward the center. Roll the whole thing into a long loaf shape.
Top with sliced almonds if you're using them, and brush the whole loaf with melted butter.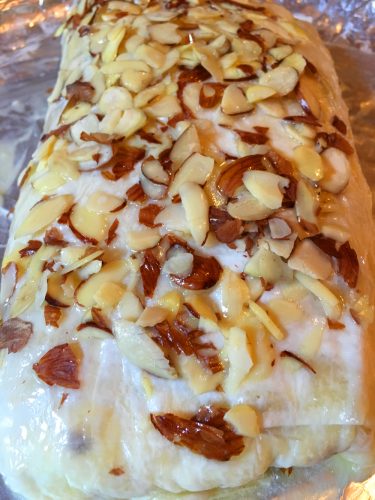 Place in the 400F oven for 30 minutes or until golden brown, and you're done. You can experiment with adding less sugar and fresh sage for a more savory side dish option, too!