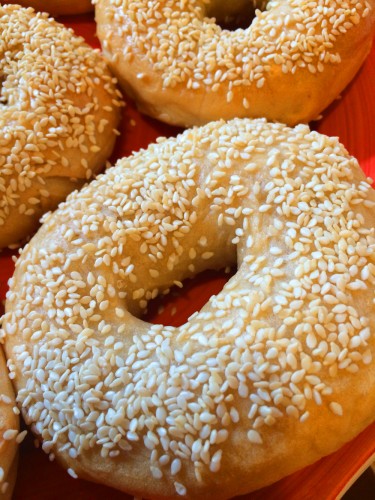 My first try at homemade bagels was a success. While they take several hours to make counting rising times, the recipe is easy and hands-on time is just little over an hour. I got the original recipe from Munchies, and made some minor adjustments. Here's the skinny:
5 cups bread flour (you can use all-purpose flour as well; I like the chewiness bread flour gives them)
1 tsp yeast
2 tbsp sugar
2 tbsp buckwheat honey (barley malt syrup could also work)
1.5 tbsp salt
2 cups water
1/2 cup raw sesame seeds
***
Put water, yeast, sugar, salt, and honey in stand mixer (like a KitchenAid) with dough hook. Mix together.
Add 5 cups flour slowly, giving it time to mix. When all the flour is in, mix for 5 minutes.
Put dough in oiled bowl and cover w/oiled plastic wrap to keep it from drying out. Let rise in warm place for 2 hours or until about double.
Put dough on lightly floured board and cut into 12 equal pieces. Roll into 12 balls and put on parchment-lined baking sheets (I used 2 sheets). Cover with a damp cloth and let rise for 20 minutes.
Uncover and make a hole in the middle of each bagel. Poke a hole with your thumbs and give the dough a quick spin around one thumb to make a 2″ hole.
Put holed bagels back on baking sheets lined with parchment paper. Let rise uncovered for another 20 minutes.
While bagels are rising, preheat oven to 500F, and start a large stock pot 3/4 filled with water to boil.
When bagels are done with their final rise, drop in boiling water for 30 seconds, 3-4 at a time (however many fit with space to float independently). Flip the bagels and boil for another 30 seconds. Remove with a slotted spoon back onto parchment lined baking sheet. Sprinkle with sesame seeds while still wet. Repeat for remaining bagels.
Place in preheated 500F oven for 5 minutes. Rotate baking sheets, turn oven down to 350F, bake for another 10-15 minutes until golden brown.
Cool on racks, if you can wait.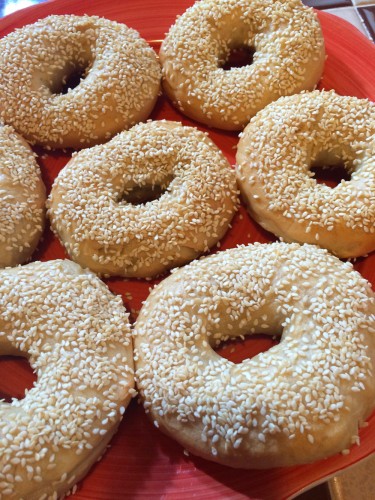 Homemade cream cheese update:
I made some cream cheese to go with those bagels. The recipe I used called for 1 qt of heavy cream (from the local dairy – not the ultra-pasteurized stuff you usually get in the supermarket) with 1/8 tsp. mesophilic culture (mine from CheeseMaking.com) stirred together in a glass bowl.
I warmed the oven to 170F, put the cream-filled bowl in the oven, turned off the oven, and let it sit for 10 1/2 hours. Once it formed a solid curd, I drained the curd for 12 hours through a butter muslin lined strainer placed on top of a bowl. After the curd became a solid ball, I mixed in a tsp. of cheese salt (any fine-grind salt will do) and put it back into the muslin let it drain for another hour.
The result was more cultured butter than what I think of when I think of cream cheese. It's relatively soft at room temperature, like butter, and has a mild tang. When spread on toasted bagels, it melted less quickly than butter, but not nearly as slowly as packaged cream cheese. It tastes fine and has a little butterfat waxiness. It wasn't what I had in mind for cream cheese, though. Perhaps I'll try another cream cheese recipe next time to get a more cream-cheesy flavor and texture. Or, [dramatic back of hand to forehead], go for good old Philly.