This book came to mind again with my recent experience witnessing the miracle of microwaved, composted, neglected popcorn kernels coming to life in my compost bucket.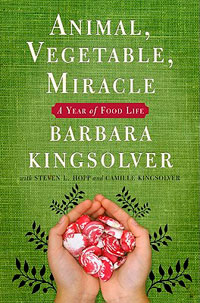 Animal, Vegetable, Miracle captured my imagination back in 2007, and is at least in small part responsible for my departure from city life to beginning to cultivate crops and building a homestead in the rurals of Montana.
Mixing botanical history, recipes, first-hand stories, and personal dreams, Animal, Vegetable, Miracle speaks beautifully to the power of intention meeting the realities of (the rest of) the natural world.
Even if you're not a gardener, this book is an intoxicatingly-written celebration of the will to life — and an enjoyable read for any homesteader. Highly recommended.