First time making apple butter. Apple butter has no dairy in it despite the name. The end result is supposed to spread like butter, but be made of only apples, sugar, a touch of salt, and spices. The recipe I used also called for apple cider vinegar during the simmering process.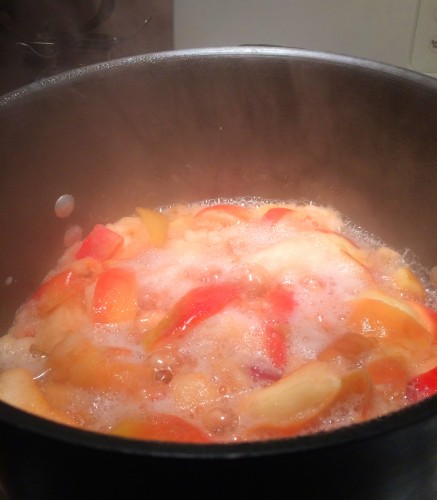 I started by washing and slicing the apples into quarters, keeping  the skins and core attached. The quartered apples went into a large stock pot with 4 cups water and 2 cups apple cider vinegar. After bringing to a boil and simmering for 20 minutes or so, the apples were soft. I put them into a food mill a batch at a time to separate the seeds, peels, stems, and core from the apple pulp.
I ended up with 12 cups of pulp, to which I added 5 cups of sugar, 2 tablespoons cinnamon, 1 tablespoon nutmeg, 2 teaspoons allspice, and a dash of salt. That all got cooked down for 2 1/2 hours until the mix was smooth and creamy.
The cooked-down mixture went into 12 8-ounce jelly jars, leaving 1/2 an inch of head room. I water-bath canned them for 20 minutes.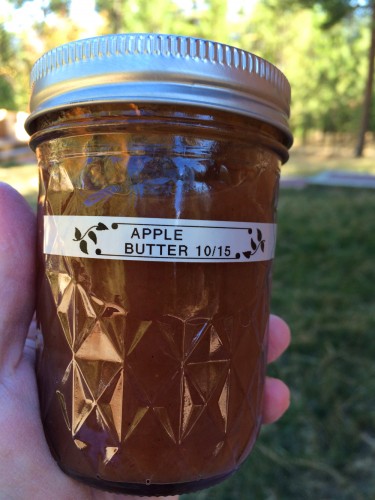 The end result was more runny than buttery — something between apple butter and apple sauce. Could be because I used about a cup less sugar than the recipe called for, or could be that the apples didn't have enough natural pectin (found in their skins, seeds, and core) to set the mix properly. It also had a bit too much of the cider vinegar after taste.
In the future I might try using lemon juice instead, and more sugar. Maybe a dash of powdered pectin wouldn't hurt either.